Electrolysis
Electrolysis is invented in 1875. This is the only permanent hair removal method approved by FDA. The latest technology epilating machine "Apilus PLATINUM" is available. The safe, comfortable and effective electrolysis will ensure the smooth and hairless skin. Electrolysis can treat any area of the body where laser cannot. (On genital area, areola or even ears. Don't be shy, please come for a free consultation!)

Less redness
Less pain
Less reaction
Less sensation
More comfortable
More effective
Faster
※Electrolysis is the only permanent hair removal method approved by FDA.
Electrolysis is a simple procedure approved by the Food and Drug administration (FDA) to be the best way of eliminating unwanted hair without damaging the skin. It's safe to use on any type and color of skin and hair, unlike lasers, which require specific skin and hair criteria. Laser hair removal is not approved by FDA for permanency.
Excess hair on the face and body can be removed a number of ways—shaving, tweezing, waxing and chemical depilatory creams. These are all temporary methods, often with side effects such as skin irritation, ingrown hair, and folliculitis (infected hair follicles). The only proven, permanent method of hair removal is electrolysis.


This is my underarm treated 29 years ago. The follicles got smaller, no hyperpigmentation, and smooth.

Themolysis
Thermolysis, also called high frequency method, destroys the hair follicle by heat or electrocoagulation. This is much more comfortable and faster than the blend method, and it is permanent.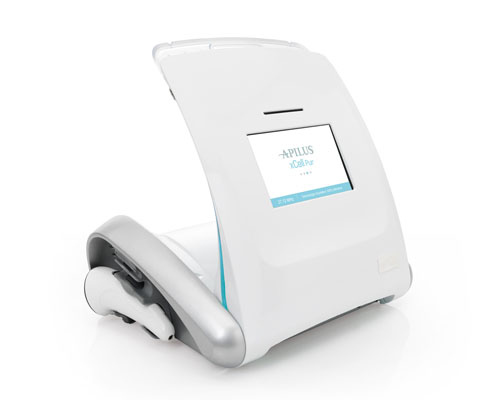 Apilus xCell, the newest epilator
We use the latest Technology Epilator, "Apilus xCell". This machine combines artificial intelligence and it can input the sex, treated area, the thickness of the hair on each client so we can give much more effective treatment!

Ultrarapid Frequency
The world-exclusive design of Apilus xCell an ultrarapid 27.12 MHz frequency to permanently and rapidly destroy all types of hair. Thus since it works twice as fast as any other epilator, the Apilus xCell is able to coagulate in a very concentrated fashion the cells responsible for hair growth, thereby providing incomparable effectiveness and comfort.

Unrivalled Comfort
Thanks to its ultrarapid 27.12 MHz frequency, the PicoFlash mode of the Apilus xCell offers comfort the likes of which have yet to be seen in permanent hair removal.

100% Effective Treatment
To this day, electrolysis remains the only 100% effective permanent hair removal method for all hair and skin types. Other hair removal methods currently available on the market, such as laser, work from outside, detecting the hair pigment (melanin). Thus, they require a strong contrast between the skin and the hair in order to reduce porosity. Electrolysis, on the other hand, attacks the hair follicle from the inside, leading to the direct destruction of the cells responsible for hair growth, while protecting the skin's surface. Therefore, whether your hair is blond, black, white or red, and your skin black, swarthy or olive, Apilus xCell will always deliver 100% effective result.
Free Consultation
Selecting a qualified technician is vital. Always choose a professionally trained and licensed electrologist. You should receive a consultation prior to the first treatment which will consist of a brief medical history, explanation of procedure and an estimate of how long it will take to complete the area. Do not be afraid to ask questions, especially when it concerns your time and money.


Insulate Disposable Needle
Only insulated disposable probes are used. It does not damage the skin so it is very safe.

Medical Grade Magnifying Lamp and LED Light



It is impossible to remove hairs if you cannot see the hair clearly even though you have the greatest technique. The cells will not be destroyed completely if the probe is not inserted properly and this means it is not permanent. We use the medical grade magnifying lamp and LED light which doctors use during a surgery, so we can see and treat any tiny hair.

Licensed Electrologist
In order to provide electrolysis in California, you need to study the knowledge of the skin, hair and the techniques of epilation, and need to pass the California State Board Exam.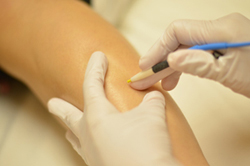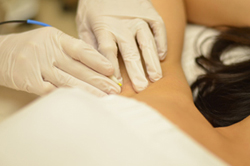 | | | |
| --- | --- | --- |
| TIME | Nami | Naomi & Kiyoko |
| 60min | $85 | $80 |
| 45min | $70 | $65 |
| 30min | $55 | $50 |
| 15min | $40 | $35 |
Q & A
Is electrolysis safe?
Yes. Electrolysis has a 130-year history of safety and effectiveness. There has never been a reported case of disease transmission in electrolysis. A sterile disposable new needle is provided for each treatment.
How does it feel?
During most treatment ,a definite sensation should be noticed. Some people are more sensitive, while others may even fall asleep.
How long will it take?
The total treatment can vary greatly from one individual to another. It is dependent on a number of factors that include:
The size of the area being treated, previous use of temporary hair removal methods, hair growth cycles, the density of the hair, the texture or the hair, the existence of curved or distorted hair follicles, heredity, normal physiologic changes, hormone function, certain medications, medical history, age, and stress influence the treatment program for each individual.

Are there any side effects?
There may be a histaminic reaction after treatment, like a small hive or mosquito bite. This may be red and itchy initially, but it will subside soon after treatment.
Will it work for any kind of hair?

It works on any type of hair—wavy, curly, kinky or straight, and on any color of hair; black, brown, red, blond or white.
What areas of the body can be treated?
Hair can be removed from almost any part of the body, for men and women of all ages. Also for any size area including ears and eyebrows along with larger areas such as back, legs, bikini line and underarms.
Are all hairs eliminated in one treatment or is re-growth to be expected?
Deep, coarse hairs cannot always be eliminated with one treatment; thus, breaking down the hair germ cells may require additional treatments. During the course of treatment and due to the cyclic nature of hair growth, new hairs, as well as hairs emerging from a dormant phase will also be treated and may be visible at the same time as finer re-growth hairs.
At what age can electrolysis be started?
Electrolysis can be performed at any age but parental or guardian consent must be obtained for anyone under 18 years. Most individuals cannot or are unwilling to tolerate the treatment prior to puberty.
Testimonial

Compared to other salon where I used to get electrolysis treatments, it is less painful and very comfortable.  I love the newest machine! – T.Y. in Irvine
Since I started the electrolysis on my legs, I have been released from shaving and I don't have to stay in shower longer.  The hairs on the legs are getting less and less so I love the touch of my legs! – R.T. in Mission Viejo
I am currently getting the treatments on my underarms.  I don't have to shave or plug the hair at all so the skin is getting very smooth.  I should have done long time ago! – K.B. Laguna Hills.
I had the laser treatments but the hair came back and the areas where I got laser got dark.  I should have started electrolysis from the first place. – M.M. in Irvine

Before Treatment
Since good hygiene is an important part of your treatment preparation you should be showered and clean before you arrived you are having treatment done in the body.
Clean skin reduces the risk of irritation, so lotions. Oils. Deodorants and/or make-up should be avoided on the area to be treated.
Wear freshly laundered bikini or brief underwear for a bikini line treatment.
Relax. Try to avoid the stress of rushing to keep your appointment on time. Feeling pressured to be prompt can stimulate adrenalin and make you tense and nervous. Arrive early enough to allow yourself some time to relax for a few minutes before your scheduled appointment time.
Avoid ingesting caffeine or other stimulants on the day of your appointment.
It is important be well hydrated for your treatment, so try to drink an adequate amount of water for a day or two prior to your appointment.
You may want to consider taking your favorite pain reliever an hour before your appointment.
After Treatment
Do not use deodorant or antiperspirant for 24 hours after work on the underarms.
Do not apply make-up at least 24 hours. If you must use make-up, use only fresh make-up, purchased within the last 90 days to minimize the risk of infection or reaction.
If work was done on the face, neck or hairline, put a new pillowcase on your pillow.
Apply Tissue repair cream or Aloe Vera gel especially formulated for burns.
Avoid exposure to the sun or tanning beds for at least two days. If your must be out in the sun, wear sun block of at least SPF#30.
Occasionally, a tiny scab may appear a few days following treatment. This is also normal. Do not remove this scab. It will heal from underneath and will come off by itself.
Wait three to five days before using hot tubs, saunas or pools.