Body Treatment
55 min/$85
(Cleansing, Steamer, Massage, Exfoliation, Masque)
Your Back is deep cleansed and exfoliated to remove dead skin. Muscles are relaxed by hand massage and masque.
90 min/$90
The M'lis contour body wrap is a body treatment designed to cleanse the lymphatic and circulatory systems. It rids the body of waste material stored in the connective tissue, resulting in
a reduction in the appearance of cellulite, 4-14 inches of per wrap, reduced water retention, detoxification, increased circulation, toning, tightening, and moisturizing of the skin. Clients can safety wrap every 3-4 days.

| | |
| --- | --- |
| | Green Coffee Body Wrap (Smoothes Cellulite and Detoxification) |

75 min / $90
Slim, user and tone your body with a cutting-edge cellulite treatment. This slimming and toning wrap stimulat es your body's ability to break down fat, increase metabolism, and eliminate water retention. Pure 100% Micronized Green Coffee, naturally rich in Chlorogenic Acid, Polysaccharides, Proteins, and Essential Oils, smoothes and enhances skin texture, visibly reducing spongy, dimply, cellulitic areas.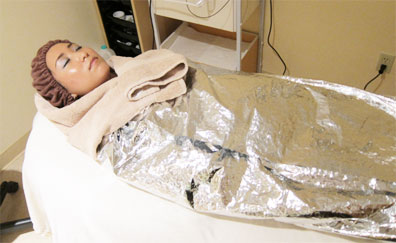 Benefits & Properties of Green Coffee
Accelerates body's elimination process
Inhibits accumulation of free-radicals
Inhibits lipids peroxidation
Stimulates fat lipolisis, Smoothes spongy-looking skin
Activates hydrolysis of fat
Diuretic, hydrating, firming
Releases and eliminates toxins
Price     1 session / $90,  5 sessions package / $400
| | |
| --- | --- |
| | lumafirm® firm & Glow Body Wrap |
90 min / $120
Enriched with 26 dynamic ingredients including an exclusive combination of anti-ageing extracts, the latest in peptides and an amazing liposomic technology, every body will look youthfully radiant. Deeply repairing, hydrating, smoothing and de-ageing, this luxurious wrap leaves every inch of your skin velvety soft while rendering your body visibly rejuvenated, instantly firmer and more toned.