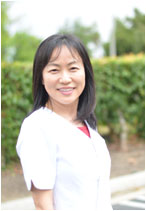 Nami Hemphill, L.E., C.P.E.


Born 1962 Gifu, Japan
Nami's Skin Care, LLC Owner
Licensed Esthetician, Licensed Electrologist, Licensed Massage Therapist, Certified Professional Electrologist (CPE)
Member of American Electrologist Association
Member of Irvine Chamber of Commerce

In December 2004, Nami started her business in a small facial room at the Laguna Hills Mall. She gradually added massage and electrolysis to her menu which required more room and additional staff. In May 2009, Nami moved her business to her own salon in Irvine. Nami challenges herself to solve skin problems by utilizing a combination of formal training, years of on the job experience at her salon and her own experiences working in a dermatologist office and cosmetics company in Japan. Nami created her own brand of skin care cosmetics called Celecty. Nami has made a large impact with electrolysis on the Japanese community in Southern California. Nami has logged more than 20,000 hours of practical electrolysis. Nami takes the time to listen to her clients' needs and often expands her business based on those needs. For example, Green Peel and electrolysis are offered based on client requests. Nami's services are continually evolving and expanding.