Green Peel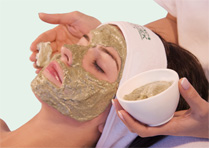 What is Green Peel?
The original GREEN PEEL Herbal Peeling Treatment method from Dr. med. Christine Schrammek-Drusio is a dermatologically developed, biologically-based method for skin peeling with exclusively natural plant ingredients,which has been successfully proven worldwide.
Green Peel is a unique intensive herbal peeling method with over 50 years of successful application and experience all over the world.
Effects of Green Peel

Impure oily skin, acne, enlarged pores
Scars, acne scars
Prematurely aged skin, skin with poor circulation
Hyperpigmentation
Sun-damaged skin
Sagging face contours, wrinkled
General skin rejuvenation and regeneration
Stretch marks
※There are all individual variations.
Contraindication
Pregnant and nursing woman
All skin disorders, bacterial and purulent infections, dermatitis
Actinic keratosis
Allergic or very sensitive skin
Thin skin with telangiectasia and certain forms of resacea and other similar dernatoses
All new skin alterations and lesions
All naevi (recommend seeing a dermatologist, as such skin changes can only be diagnosed and treated by specialists)
Refresh your skin in 5 days
Consulting(15min)
Skin check and allergy test
Visit the salon!
Day1
Green Peel Treatment(1hour¥)
Cleansing, special massage with peeling herbs, mask
Visit the salon!
Day2
Your face will look just like before the treatment or little red (like Suntan)
Day3
Your skin will get dried and start exfoliating from near the mouth.
Day4
You skin will exfoliate everywhere.
Day5-6
After Peel Treatment (1hour)
Skin check and exfoliating dead skin
Visit the salon!
After 3 or 4 days of the treatment, dead skin start to exfoliate and there is no need peeling. for special care. After 5 or 6 days of the treatment, you have to come back for after peel treatment. After checking skin condition, you may have facial massage (if necessary)in order to exfoliate dead skin. By nourishing, pores are closed and your regenerated skin will look clear and rejuvenated. Don't forget to frequently put sunblock after the
※Be careful not to wet your face after the treatment especially when you shampoo. You will be using only home care product for Green Peel Treatment of Schrammek.

★5 days Green Peel...





$300

(includes After Peel Treatment)


$150

for Home Care Kit
※Home Care Kit is required.


【Home Care Kit】
Herbal Care Lotion
$45
Special Regulating Cream $59
Special Care Cream $59
Blemish Balm $57
(Original BB Cream )
---
★ 1 day Mini Peel ...
$175

$190 includes Home Care Products for 5days (Blemish Balm + Special Care Cream)

1 day Mini Greep Peel is a well-directed intensive treatment which helps diminish the first skin problems caused by age-related factors.
The activation of the blood circulation and metabolism results in natural skin improvements. The use of this treatment for skin with blemishes and impurities, scars or hyperpigmentation is also highly recomended. This treatment gives the skin natural energy for renewing the cells.
Ideal as an intensive treatment several times a year.

---
★ Fresh Up Green Peel ...
$155

This treatment is for all customers who want a bit more, for example a gentle complexion refresher, increased absorption for ingredients or effective hydration of the skin. This treatment is also the adeal preventative measure to combat premature aging and loss of elasticity in the skin, even when this is not yet visible.
Refresh Green Peel vitalises the cells - the skin glows wht renewed freshness.

---
★ Green Peel for Neck & Decollete ...




$60

with 5days or Mini Green Peel
【Recommended Home Care Product】

Skin Elixier 30ml $69
---
Contraindications

Pregnant and nursing women
All skin disorders, bacterial and purulent infections, dermatitis,
Actinic keratosis, Allergic or very sensitive skin,
Thin skin with telangiectasia and certain forms of rosacea and other similar dermatoses,
All new skin alterations and lesions,
A all naevi (recommended seeing a dermatologist, as such skin changes can only be diagnosed and treated by specialists)

---
★★★★★★★★★★ My Experience ★★★★★★★★★★


First Day
After treatment, I felt my face little swelling and red look like after sun burn.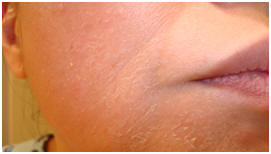 3rd Day
My skin was getting dry and started peeling.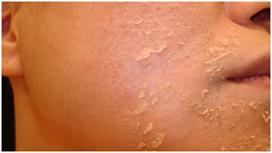 4th Day
Peel, Peel, Peel!!! I could see the new skin.
5th Day
I got my half peeling skin exfoliated for after peel treatment. It took few extra days to exfoliate around forehead and cheeks. My face was probably exfoliated again and blemish repeated to get darker and lighter. After some cycles, blemish got light in three weeks I cannoot wait to do green peel treatment again!
"I cannot do it by myself."
★★★★★★★★★★★★★★★★★★★★★★★★★★★★


How can herbs peel skin?

Blended natural herbs are rubbed into pores and pores will be endermatic. Absorbed by skin, herbs will penetrate into lymph and blood vessel and activate cells. Skin function will be normalized and healthy smooth skin will be regenerated.


How many treatments do I need to see good results?

It varies depending on what kind of skin trouble you are having. Some people are satisfied with one treatment. It will take more than one treatment for dark blemish and acne care.


Can I put makeup on after peeling?

You cannot put makeup on, but you can use homecare blemish balm (Original BB cream) for foundation. After peeling is done, you can put makeup on


My skin is sensitive, can I do green peel?

Yes. During consulting, you will do a patch test. Please inform then if you have sensitive skin or allergy. It works for red-face because it improves capillary function on skin surface.


My skin will be completely peeled in 5days?

Forehead and cheeks are the last part to be pealed after 2 or 3 days of the after peel treatment. Skin continues to exfoliate for 3weeks, but you don't even notice.


Can I do green peel consecutively?

Yes, with 28day cycle. Even after solving your problems, having the treatment every 6months for maintenance is recommended.


Does it hurt?

Yes, it hurts during massage but after seeing regenerated skin, you will say "I want to do green peel again". It really does make your skin smooth.


What do I need to be careful with after green peel?

You can wash your face and put makeup on after after peel treatment. Make sure to put strong sunblock on.


【After Care Product】
Herbal Care Lotion
$45.00
Special Regulating Cream $59
Special Care Cream $59
Blemish Balm $57
(Original BB Cream )